Neighbourhood Kindness
This is a difficult time for everyone and it has been incredible to see so many people willing to get involved in helping their local community in any way they can.
One of the most important things we can all do is to be a good neighbour and be kind to others who may be struggling with the current situation.
If you'd like to offer your help to those in need in your neighbourhood, we've created a postcard that you can print and post through the letterboxes in your street to let people know that you are able to support them at this time.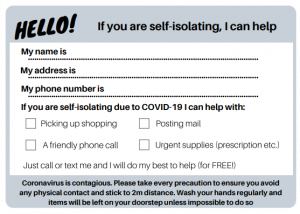 Click on the graphic to download the postcard for printing (PDF format)
The Be Inspired Project
Be Inspired wants to help you improve your neighbourhood and provide help and support to get things done.
We want to help you get your voice heard and get involved in making your community a better place to live.
We believe that local people know best what is wrong or missing in their communities, and also that these people are the ones who no doubt know best how to go about fixing or filling that gap. We are a free resource of two Community Coaches and our role is to help people turn their Ideas into Plans, and then their Plans into Reality.
We can support you to take ideas and make them happen. The COVID-19 crisis has had a silver lining of allowing us to see how we can help each other in these strange and difficult times.
Our goal as coaches is to inspire people and to support you to help others.
For more information you can contact us at:
Barbara: 07729 716997 or barbara@tact.scot
Chris: 07729 713433 or chris@tact.scot
Community Initiatives
For those who may not want to volunteer in a formal capacity, there is still a wide range of activities that you can do to support your community. The staff from the Be Inspired project have kindly created a list of ideas and suggestions that are needed just as much during this time.
Please click on the link below to expand the list:
Telephone calls – good morning type calls or befriending:
Telephone befriending now more than ever is vital; how good would it be to hear a friendly voice and not just a one-off phone call but regular contact that could be an emotional lifeline to those living on their own and not able to get out? This could be part of a 'good morning' call which could be checking that people are up, are ok and even that they've taken necessary medication.
Food deliveries – shopping or meals:
Collecting shopping for those not able to do this themselves due to having to self-isolate and then delivering the shopping to their home. Or making an extra portion of a meal and delivering it to a vulnerable neighbour who would really appreciate a home-cooked meal.
Flower baskets / boxes:
For those of us with green-fingers making up flower baskets and hanging them up to brighten up the neighbourhood and bring in some much needed colour or making up flower / vegetable boxes to go on local window ledges to again bring some much needed cheer or provide fresh vegetables to those who don't have access to them.
Baby banks:
Taking in donations of nappies, bottles, clothes, cots, prams and pushchairs. These are then given to families in need that can't afford these items on their own or it could be a mother fleeing from a situation where these items have had to be left behind. Whatever the situation this is a vital lifeline to families that could benefit from a bit of support.
Clothes banks:
Taking in donations of second hand clothes that are then given to those who can't afford to buy them due to financial difficulties or people that can't leave the house to buy them.
Dog walking:
For those living on their own and not able to get out, knowing that their pet is getting the opportunity to get out, even if they can't, could really help allay anxiety for some pet owners, who because of underlying health conditions aren't able to leave the house.
Book swaps / clubs:
I'm sure that we all have books lying around that we've read. With the libraries being shut, other than buying new books, swapping books is a great way for them to be recycled and read by others who also enjoy a good book. The book club could be a virtual one bringing together family, friends and neighbours who all share a passion for reading. Pick a book a week or a fortnight and discuss / debate / share views.
Online keep fit / yoga:
If you have a passion for keep fit or yoga and are comfortable enough why not share that with others by setting up online sessions for bursts of exercise, it could be that everyone takes a turn and does a session each or maybe there's that person who is happy to lead the sessions and others join in.
Online mindfulness sessions:
Mindfulness is very popular and can help to provide ways to cope during this crisis, this could be a great way for someone who has the knowledge to share hints and tips to help others reduce any anxiety they may have.
Online tutorials on how to use social media for elderly relatives who want to keep in touch with their families:
Do you have a good grasp of What's App, Messenger or similar types of apps? It could be so vital being able to demonstrate how these apps work for those who just don't know where to start. Now more than ever this can be a godsend for those having to self-isolate by providing contact with their families but also allowing families to see each other and be reassured that they are ok.
Virtual choir sessions:
Some of us are gifted with great voices but for everyone singing can be such an uplifting experience, setting up a virtual choir for family, friends and neighbours can be a great way to keep socialising while having some fun. Zoom is free and could be a great way to do this.
Virtual craft sessions:
Do you have a talent for creating things, you could share this with others by showing them how to be creative themselves by putting on demonstrations on how to make cards, pictures, jam or whatever it may be. It could be a group of likeminded people who get together online to share tips and hints on crafting.
Making up 'kindness' or positive statements / cards:
Given these difficult times we could all do with a pick me up, receiving a card with a positive or kind message could really brighten someone's day. Making these up and delivering them to vulnerable neighbours who don't currently have access to their families could really help uplift them.
Virtual 'cook together' sessions:
People are having to be more creative with their cooking due to the situation we all find ourselves in. Having someone who is talented in the kitchen and creative with food that can provide some hints and tips and demonstrations could really help people learn and perhaps encourage the whole family to cook together.
Leaflet drops about vital services etc:
There are so many vital services operating through this crisis and it's entirely possible that many people just don't know about them and don't have the first idea about where to start to find out about services they need. Dropping this information direct to people's doors is a great way to let people who and what's out there to help them.
Sew / knit / crotchet support blankets or baby clothes:
This is a great way to use skills to help others in our society who could really benefit from a homemade blanket. Or to provide much needed baby clothes for new parents who either can't afford to buy them or can't access them due to the lockdown.
Transcribe stories:
This is about recording an audible version of a story that could allow someone with a sight impairment to enjoy the story too, this may not be for everyone but is a great way to help others to access great stories.
Volunteering Opportunities
Opportunities to volunteer for voluntary organisations and public services are very limited at this time. More volunteers may well be required over the coming weeks and as these opportunities become available they will be added here.
Below you will find the latest volunteering opportunities related to the Covid-19/Coronavirus pandemic.
Simply click on one of the boxes below for an expanded description of what's involved in the role.
If you are interested in any of these positions, please scroll down and fill in our volunteer registration form.
Role Description(s)
Volunteers can be trained in First Aid, Communications, Civil Engineering, SAR or can be generalist and assist as required.
Full training as a CRVS volunteer which involves the following:
• Basic training on how to conduct themselves with emergency services.
• Train as a first aider, opportunities are available to advance beyond basic first aid.
• Training as a communications expert.
• Training in Ordinance Surveying maps and SAR.
• Volunteers can also be trained to multi-task.
• Maintenance of equipment and vehicles.
• Further opportunities as charity advances.
Role Description
We desperately need more volunteer drivers to take patients to their cancer treatment in the North Ayrshire area.
Our Volunteer Drivers provide transport to and from cancer patient's homes to hospitals in Glasgow and locally for cancer treatment. The service is especially useful for those who feel unwell after treatment, those living in rural areas, elderly patients and parents taking children for treatment.
We will reimburse travelling expenses for Volunteers.
Eligibility Criteria
• You must have an up-to-date Disclosure Check or PVG and access to a reliable car.
• You must be under 60 yrs old and completely free from any signs of Coronavirus symptoms.
Role Description
We are desperately looking for volunteer drivers to take patients to their cancer treatment.
Eligibility Criteria
• You must have an up to date Disclosure Check or PVG and a reliable 4 door car.
• You must be under 70 yrs old and completely free from signs of Coronavirus symptoms.
Role Description:
• Working with the driver and team to pick up furniture and other household goods from people who have donated the items to us.
• Delivering furniture and other household items to clients that have been referred to us by partner agencies.
• Responsible for navigation to various addresses.
• Safe manual handling of the furniture and household goods.
• DIY skills would be an advantage.
Note: This is a physically demanding role due to the furniture that is collected and delivered.
Eligibility Criteria:
• We would like volunteers to be polite, discreet, courteous, helpful and respectful to both clients and donors.
• Some manual handling training preferred.
• Navigational skills and some DIY skills would also be a benefit.
Role Description
Volunteers will facilitate essential support to help children to access respite from lockdown, these children are unable to self-regulate and can't understand why there are changes in their routines. This help will make families better able to cope with the current changes COVID-19 brings.
By supporting these children to get out, even for a small amount of time, for exercise or just to play is essential to their mental and physical health.
Eligibility Criteria
• You must have an up to date Disclosure Check or PVG.
• Must have experience of working with children with Autism.
• You must be over 18 yrs old and completely free from any Coronavirus symptoms.
Having your own transport is advisable but not necessary. All fuel costs will be covered and you will need to have full business insurance in place.
"Neighbours helping Neighbours"
At Beith Trust we believe one of the most valuable assets of our community are its volunteers. In this difficult time we would like to tap into all the wonderful, thoughtful caring people who want to help others in their local area. We are asking for friendly, helpful, committed and reliable people to help their neighbours through this new programme.
Role Description
A Community Shopper will:
• Be matched with local people/families who can't leave the house
• Get people's shopping for them once a week
• Get prescriptions if needed
We will be asking you to sign up for at least 3 months.
You will be allocated up to 5 people/families in an area near to you. We will match you up with them. You will get to know them and be someone that they can contact if they need help.
Eligibility Criteria
We expect volunteers in this role to be :
• Friendly and helpful
• Committed and Reliable
• Honest and Trustworthy
• Have access to a phone and internet
• Complete online forms
• Willing to take part in online training
• Sign up for all Beith Trust's Policies and Procedures
In return, Beith Trust will provide :
• Essential PPE
• Strict guidelines to keep volunteers and community members safe
• Ongoing support and supervision
• Training
• Support
• Expenses
Role Description
We are seeking Volunteer Shoppers who are willing to carry our weekly shopping trips for an older person living nearby, deliver to the older person's home and put items away in cupboards if necessary.
Volunteers can state area they are willing to cover.
Food Train Connects aims to match two groups of people:
· Older people (aged 65+) throughout Scotland requiring a little bit of a helping hand to continue living comfortably and contentedly at home; and
· Volunteers who are willing to provide that regular support to help improve the quality of life of someone living nearby. Food Train Connects can provide vital shopping provision for anyone over 65.
The customer will be matched up with a volunteer shopper in their area who will then carry out weekly shopping trips for the customer.
Food Train Connects exists to provide support for older people by making these vital connections.
Eligibility Criteria
We expect volunteers in this role to be :
• Friendly, chatty in nature and with good common sense
• Minimum age is 16
Food Train will provide:
• Induction
• Ongoing support and supervision
• Training
• Travel expenses (Mileage to maximum of 10 miles for each shopping trip at a rate of 45p per mile)
Role Description
Support is provided to people who are dying alone and support people who have families that need support and respite.
At this present time, due to the Coronavirus, we are offering telephone support not only to the above group but to the wider community. Volunteers' contribution can be as little as one call a day to one person or to a few if you wish.
A brief volunteer interview will be held through video call when we will also fill out application form and PVG form. We are looking for volunteers who have experience of just listening/counselling and also general volunteers for general chatting to break up people's day.
Role Description
We are in urgent need for volunteer heroes to join the fight against the Coronavirus and help people to stay safe and well in their homes.
Become a Kindness Caller and check-in on people over the telephone, many who are isolated and struggling right now. You can also volunteer to deliver shopping to people, including groceries and medication, and walk their dogs for them.
You have the power to help the most vulnerable people in your communities and make sure that no one is left to fight this virus alone.
Role Description
We are looking for a pack of e-volunteers to help reach pet owners and help animals in Scotland.
E-volunteering is a great way to make a difference from the comfort of your own home. You will be providing reassurance and guidance to our communities, getting messages into our communities, sharing stories and information across social media and tackling isolation and loneliness.
You'll be carrying out quick activities on an ad-hoc basis when it suits you, and helping us to improve animal welfare in Scotland.
Role Description
Based within the Church of the Nazarene in Ardrossan, the North Ayrshire Foodbank continues to receive food, sort, process and organise and prepare it for distribution. The difference during this national emergency is we will not be delivering. All food will be collected by a support worker or issued through one of the 5 now fully operational Locality Hubs.
In addition, we continue to scale up the production of our ready meals. We would like to have the capacity to rise from the 300 a week we were doing to a maximum of 500 per day (Monday – Friday between 9am to 5pm). We have 5 distribution points across the local authority with those agencies delivering to their clients.
What we need more than ever are volunteers to be part of a rota to assist in preparing those meals:
• Vegetable preparation
• Cooking meals
• Portioning the meals
• Labelling the tubs
We require the chef to be supported by 4 persons per day. If you are able and willing to join that group on a rota we would welcome your involvement. If you could tell us which days and times you could offer. Whole days would be preferable but any number of hours you could donate would be a blessing.
You don't need to have a REHIS certificate for this role but if you would like to go through it then we can support you with an online course.