Laura Devlin – Assistant Manager with Cancer Research Shop, Bridgegate, Irvine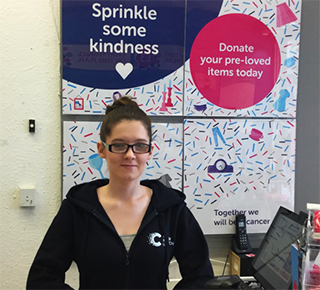 "Before I started the Positive Steps with Partners project I had lost all confidence in myself. I was stuck in the house and not having any luck with job applications and not getting any job interviews either.
My mum had met with Cheryl from the Positive Steps with Partners project and arranged for me to meet Cheryl. The project sounded interesting and I thought it would be worth giving it a go. The staff who delivered the training – Peter and Susan – are really good and they helped me feel at ease and relaxed so I really was able to enjoy the training.
After the training, I really started to feel better about myself and then I was set up with a volunteer work placement with the Cancer Research Superstore in Irvine. This placement really boosted my confidence – especially when talking to people. I'm feeling more confident in working with others and have more faith in myself, the staff and volunteers are all very supportive and have really helped me along the way.
After a few months in my placement, a job opportunity came up in the smaller shop for an Assistant Manager. I applied for the position and was successful. I am over the moon, my first ever job as an Assistant Manager is mind-blowing I'm loving every moment. I enjoy supporting volunteers and working in such a busy environment.
If you're thinking about the project but not sure I would recommend you give a go. It has helped me grow and develop in so many ways. The last year has been amazing!"
Laura Devlin.
---