We are all aware of the desperate situation of the Ukrainian people during this time of conflict. To aid and support refugees and casualties of war, many communities across North Ayrshire are doing whatever they can to help.
The Third Sector Interface (TACT and ArranCVS) are assisting North Ayrshire Council to identify and collate details of all the activities taking place across the localities of North Ayrshire. 
Please use the resources below to donate to the national appeal directly, find current activities on the map and provide details of your own activity so we can add it to the directory.
If you're thinking about organising a fundraising event but don't know where to start, scroll down for some suggestions to get you started. 
Make a donation to the official Ukraine Humanitarian Appeal on the Disasters Emergency Committee (DEC) website. Your donation will help charities provide food, water, shelter and healthcare to refugees and displaced families.


View our Google map of initiatives and activities taking place throughout all the localities in North Ayrshire. You'll find information and contact details provided for each location on the map. 



If you are in North Ayrshire and are doing something to help, please take a few minutes to fill in the form with your details so we can add it to our map.




Zoom in and click on a location pin to read information of activities taking place across North Ayrshire.
Are YOU doing something to aid the Ukraine Appeal North Ayrshire?
If so, please fill in the form below and we'll add your details to the activities map.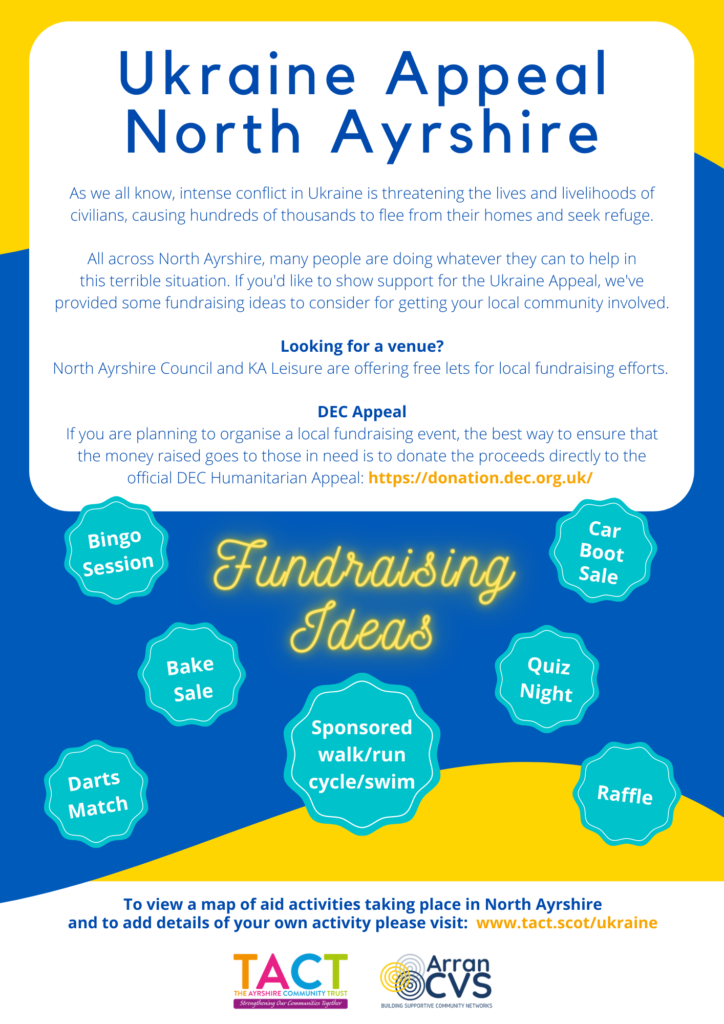 OSCR, the Scottish Charity Regulator, has published this useful guide:
Ukraine: What should charities do in response to the war? (click link to visit)

Volunteer Scotland – Domestic Support for Refugees
The Scottish Government Ready Scotland Team have provided detailed guidance and advice on domestic support for Ukrainian refugees. The article includes guidance on providing financial donations, donating goods, dealing with surplus goods, volunteering and more:
https://www.volunteerscotland.net/about-us/news-blog/news/domestic-support-for-refugees-ready-scotland-guidance/
Additionally, Volunteer Scotland have provided Disclosure (PVG) guidance for those providing accommodation to Ukrainian refugees:
https://www.volunteerscotland.net/about-us/news-blog/news/homes-for-ukraine-disclosure-requirements/

Homes for Ukraine Scheme
The UK Government has information and a FAQ on how the Homes for Ukraine scheme will work:
https://www.gov.uk/guidance/homes-for-ukraine-scheme-frequently-asked-questions

Ukraine Super Sponsor Scheme
The Scottish Government have now published guidance for those providing accommodation under the Scottish Super Sponsor Scheme:
Overview – Ukraine Super Sponsor Scheme: guidance for hosts
This guidance is aimed primarily at hosts using Scotland's Super Sponsor scheme, but it does set out the expectations and requirements of hosting a displaced person from Ukraine in Scotland for individual/private sponsors under the Homes for Ukraine Scheme.
The Scottish Government is grateful for the generosity of the people of Scotland to host a displaced person from Ukraine under the Scottish super sponsor scheme. This scheme is designed to put people first and ensure those fleeing Russia's illegal invasion are met with kindness and support when they arrive. Hosts are an important part of our Warm Scots Welcome.
To help them understand their role as host, Scottish Government has published guidance for hosts. Together with the Scottish Refugee Council they're running free online information sessions where they can get answers to questions they might have about hosting or about the super sponsor scheme in general.
Scottish Government have also published information on the Scottish Super Sponsor scheme, travel, healthcare, housing, employment and education for displaced people from Ukraine which they may find helpful. If they are matched with a displaced person or family the Scottish Refugee Council also runs regular information sessions for people who have recently arrived in Scotland.

North Ayrshire Council also has information on the accommodation for people from Ukraine:
https://www.north-ayrshire.gov.uk/housing/ukraine.aspx
North Ayrshire Council have a dedicated contact email and telephone number to help with all things around Ukraine whether questions, queries, comments etc.
These are:
E: ukrainesupport@north-ayrshire.gov.uk
T: 01294 445250